I love the Lucky Few tattoo movement that is currently going through the Down syndrome community. The three arrows symbol truly unites us all. Many in the Down syndrome community feel like we have grown because of our loved one with Down syndrome, but in the beginning we feel like we are stretched as we learn new information and start to accept the diagnosis. The arrow is a significant design because we can only launch forward after we have been pulled back and stretched. A few are taking the design a bit further including a full arrow and adding the Rise Up Tribe wording. Each part of this design has a different meaning. The overlapping triangles represent the strength and resilience of those of us touched by Down syndrome. The rings represent the connections made between families in our community. The Roman numeral 21 is included to represent the 21st chromosome. The 3 chevrons show that we are members of the lucky few and the dots at the end represent the trisomy.

But here is the thing.

I can't take needles.

So how do I support the movement without getting the tattoo? First I designed the necklace. In fact I designed a few different versions. Next I made the car decal. But actually this permanent vinyl decal can be put on glassware, porcelain or plastic. Finally I made myself a t-shirt, and then a little bit different one for a friend and so it goes.

The awesome thing with this movement is that it means something a little bit different to each one of us. The design is simple enough that it can be easily customized to fit each person.

What does the symbol mean to you? For those of you who don't feel you can get a tattoo or even if you already have one and want to share the design in other ways, you can yours in exchange for a donation to Ben's at https://squareup.com/store/bens-brigade/. Ben's Brigade supports deserving Local and National Down syndrome awareness groups.

#RiseUpTattoo #LuckyFew #downsyndromeawareness #downsyndromeadvocate

Ben was just 7 months old when we attended our first Buddy Walk. We have not missed a walk since, and some years even attended multiple walks. Fundraising to help those with Down syndrome and their families has always been something that we felt compelled to do. The money we raise helps to support deserving local and national organizations that provide advocacy, education, research and awareness. This year we will be attending the Star City Buddy Walk in Lincoln Nebraska.

Before he was even born, we knew our son Ben would come with an extra 21st chromosome. While at first we were scared, we knew this was a challenge we could face together, as a family. Having Ben as a part of our lives has made each one of us a better person. We would not change him for the world, but we would like to change the world for him. ​
Powered by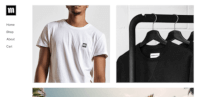 Create your own unique website with customizable templates.